After the famous Rwandan genocide in 1994 that left thousands and thousands of people dead, Rwanda set out for a fresh journey of restoration. Today business is as usual; people working, families growing, children going to school, etcetera.
The tourism sector on the other hand is continuing to blossom. One of the things the government of Rwanda did was to package this gruesome genocide history into what is now the Kigali Memorial Centre. The centre was created by the Kigali City Council in conjunction with Aegis Trust and opened on the 10th anniversary of the Rwandan genocide, in April 2004. Due to its central location in the capital of Kigali, the memorial is best known and the most visited memorial site in Rwanda.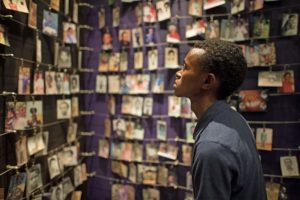 The centre serves as a mark of the massive ignorance that existed back then when human went against fellow human. It was therefore created in memory of the innocent lives lost during that season. However, today the centre is not only a tourist site but also a place where those who lost their loved ones in the 1994 genocide go to grieve.
The memorial centre contains recorded testimonies collected from all over Kigali; documents, publications, human bones and skulls that have been treated for conservation, as well as weapons used during the genocide, such as machetes, clubs swords, etc. It also contains objects like rosaries, photographs, identity cards, shoes, clothes and pipes that belonged to and were abandoned by victims. It also has a cemetery where the remains of more than 250,000 people were gathered from various districts of Kigali and buried.
On an annual basis, the memorial centre runs three permanent exhibitions in Kinyarwanda, English and French. The site is divided into different areas; three exhibition spaces, the genocide archive of Rwanda, a children's memorial a library, a documentation centre, and education centre for peace and reconciliation, memorial gardens and mass graves.
Next time you come to Rwanda or if you are already with in Rwanda, consider visiting this place to learn more about this angle the country's history.